10 Ways to make your Super Bowl Dank Presented By StonerDays • Featured, Stoner Guide, Stoner Top 10's
Mary Jane is great at making herself the life of the party at every function, and this Super bowl season is no exception! Of course you could have a pretty cool Super bowl turn- up without trees, but why on earth would you? Keep your low eyes scrolling for 10 ways to make your Superbowl dank this year.
#1- Incorporate Edibles into Super Bowl snacks
All your game time favorites like nachos, wings, and even guacamole can be turned into edibles. Check out our stoner cookbook for a closer look on how to execute these munchies perfectly to give you the munchies. Delicious flavors will have you and your guests wishing everyday was game day.
#2- Super Bowl Smokers Challenge
There's nothing wrong with adding a little competition to some competition. A fun win win game that ensures no sore losers. Here are the official rules and graphic: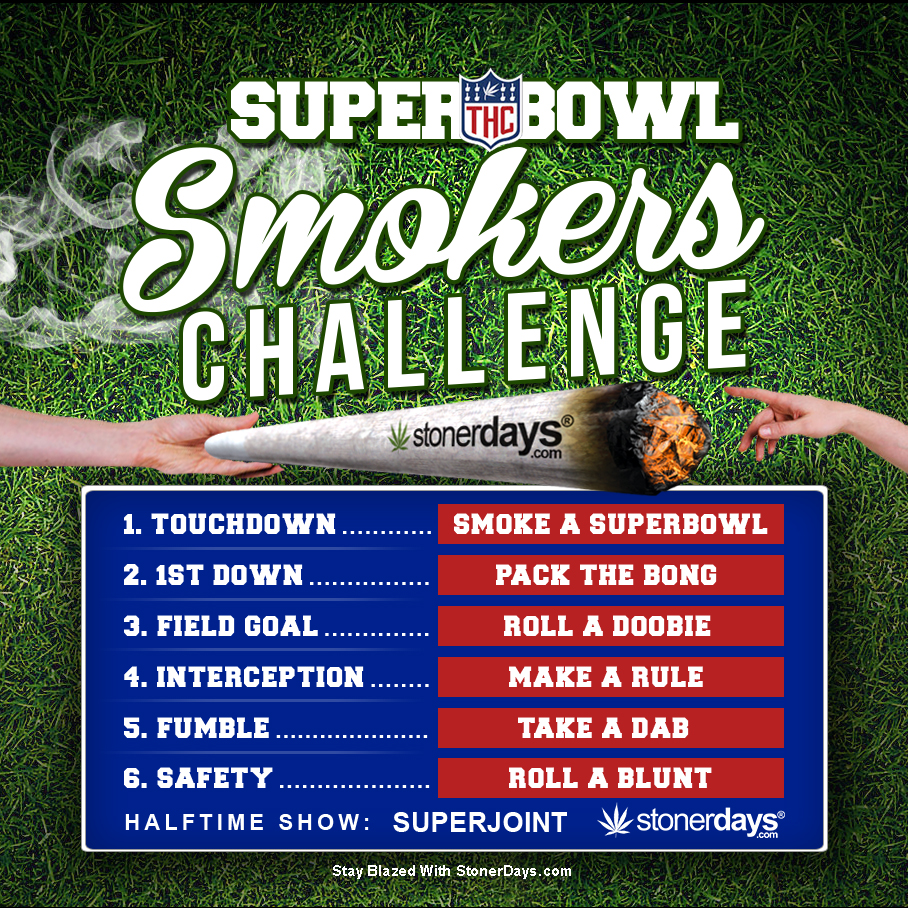 #3- Be Prepared!
There's nothing like the feeling of lighting a blunt the moment you need one. When the pig skin begins to fly you'll never know when the need might occur. You'll be able to focus completely on the game or entertaining close ones and not miss a second due to grinding, rolling, or breaking down. You might even want to stash a few killer pre-rolls especially for half-time.
#4- Super Bowl "Bong Day"
Put a twist on words and the way you get high by dedicating yourself to only smoke "super bowls" on this great day and bring out the ol' bong collection. It shows just how serious you are about your love of football and flying to the moon.
#5- Halftime High Show
For allot of people and stoners alike, the best part of the Super bowl is the halftime show. Naturally we planned to be comfortably numb through it all, seeing the lights and cheerleaders as if for the first time. Now is the time for extendos and oil rigs to take center stage along with the artists and steal the show. You knew the bowl commercials were going to be cool, but you didn't think you'd have sore ribs and cheeks from gut busting laughter and full teeth cheesing… thank the Sativa for that.
#6- Paper Football Tournaments
This is an option great for family Super bowl events where a younger audience is in attendance. Show off your high creative prowess by building cool goal posts. Legos, or even gluing tiny footballs together in the shape of little goal posts. Flicking little paper footballs through the air and watching as they soar just as your mind has can be very satisfying.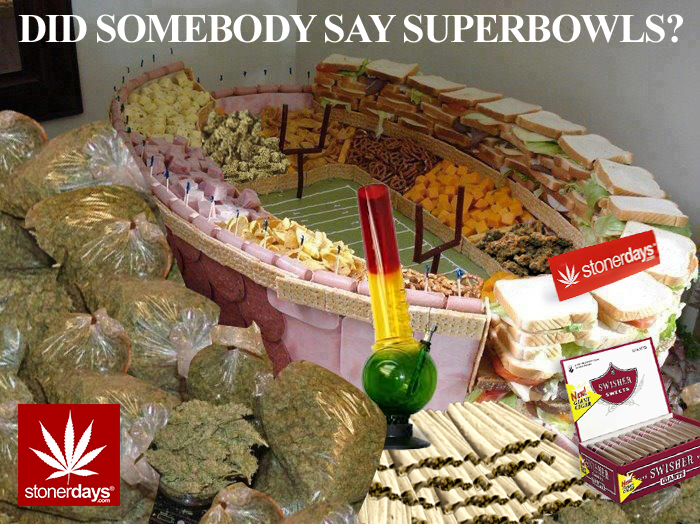 #7- Bring on the Beverages
THC juices and punches will really set the party ablaze. Have the party more soothed than actually "boozed" but still quenching your thirst.
#8- Have Game Day Tunes on Deck
Music and sports are a match made in heaven and since this Super bowl is a dank one, it needs to come with a killer playlist. Songs to keep up that game spirit and songs to smoke Mary Jane to of course. Feeling good vibes and smoking even better ones is what this day is all about.
#9- Make a Friendly Wager
Weed themed bets are always the best. If you're feeling extra confident in your team this Super bowl season why not see what the bud gods have in store? If your team looses you supply the munchies for a week, vice/versa you supply the roll ups of the winners choice for a week, you know mix it up however you're feeling.
#10- Ponder This?
Latest statistics have shown that nearly 89% of NFL players uses our beloved Mary Jane…. Just knowing that the player whose jersey you're sporting could have gotten blazed before the game; wow! Sometimes it's just the thought that counts.
We hope these help all you stoners have the Dankest Superbowl you've had to date. Keep playing and keep smoking guys!
DIY: How to Make Your Own CBN
There's a lot of talk about different cannabinoids, and the growing unregulated cannabinoids market. One of the cannabinoids of interest is CBN, for its possible ability to help with sleep. Unlike many cannabinoids which require synthetization, CBN can be made pretty easily, and not as a synthetic. Read on for tips on how to make your very own CBN.
With a wide-ranging cannabinoids market out there, there are now tons of ways of enjoying cannabis besides standard THC. Whether you're interested in delta-8 THC which causes less anxiety, CBN which might be good for promoting sleep, THCV which has shown as a possible aid in weight loss, or HHC a minimized version of THC, options abound, and we've got plenty for you. Check out all our deals on these compounds, and find the ones that work best for you.
---
What is CBN
Before getting into how to make CBN, we need to know more about what it is. The cannabis plant is made up of many components including flavonoids, terpenes, chlorophyll, lipids, cannabinoids, and other compounds. In fact, the main association with cannabis, is the cannabinoid delta-9 THC, sometimes erroneously called 'THC'. This term actually stands for 'tetrahydrocannabinols', which can involve more cannabinoids than just delta-9, but somehow that slang term has prevailed, even showing up in medical literature. However, what we are actually speaking of, is delta-9 THC.
Cannabis plants can be split into two general types of plants, though both categories fit under the umbrella of 'cannabis'. One, which we refer to as 'hemp' has lower amounts of delta-9 (which actually shows in a live plant as the acid THCA), and higher amounts of CBD (which shows in a live plant as the acid CBDA). On the other hand, 'marijuana' is now the term used for plants higher in THCA than CBDA.
Both THCA and CBDA are 'phytocannabinoids' because they appear in the plant. And both convert in the presence of light and heat to their respective cannabinoid counterparts THC (delta-9) and CBD. But this is not the end of the story. Once converted to delta-9 and CBD, these new cannabinoids can eventually degrade further into what we call 'degradants'. These degradants can be entirely new cannabinoids. And this is where CBN comes in. CBN is the main degradant of delta-9, for which the vast majority of delta-9 will become. This makes CBN a rather prevalent cannabinoid in comparison to others like delta-8 or THCV, which only ever show in miniscule amounts. The chemical formula for CBN is C21H26O2, and it's considered only minorly intoxicating.
While it's hard to say exactly what CBN is capable of, there is a growing belief that it could be related to properties like the ability to help with sleep and anxiety. This thought came around because of the noticed effect of older cannabis (which is more degraded than a new flower), making people more relaxed and tired. Plenty of research is currently being done into the possible existence of these properties. Apart from a sleep aid, CBN has many other similar benefits to delta-9 THC and other cannabinoids.
The history of CBN
Weirdly enough, CBN was the first cannabinoid of the cannabis plant to be discovered. This was not the goal at all, though, as the goal was to find the intoxicating element of the plant, for which CBN was confused. This research to establish the intoxicating element was already underway in the late 1800's, being led by different scientists, namely Thomas Easterfield. And it was his discovery that led to the finding of other cannabinoids like CBD and THC.
To find this intoxicating element, cannabis was distilled into what was referred to as a 'red oil', and this was the first form to be studied in modern times. This red oil was discovered by Dr. Thomas Easterfield, who was a member of the Cambridge Group, and a lecturer at Cambridge University. When he first wrote about this 'red oil', he gave it the name 'cannabinol'. These days we know that term to specifically mean the compound CBN, but at the time, it was related to the red oil distilled from the plant, as well as what was thought to be the intoxicating factor.
It was thought at that time that cannabinol was a narcotic substance, which was later clarified to be untrue. Easterfield was the first to isolate cannabinol, which, he stated in his late 1800's writing, as being the intoxicating factor. Perhaps Easterfield would have gotten further, but a couple incidences got in the way of research.
One involved the accidental death of two collaborators in a lab accident. The other is a strange story of the voluntary ingestion of a large dose of CBN by another guy, leading to this guy getting extremely high and somehow catching on fire. Don't worry, it was extinguished and he was fine, but research stopped upon media reports exaggerating the circumstances for smear campaigns against cannabis (started that early!) Research was halted for decades.
Things didn't really pick up again until the 1930's when Dr. Robert S. Cahn began studying CBN again. Cahn started calling the red oil 'crude cannabinol', and started using the term 'cannabinol' for the actual cannabinoid compound. Through his research he was able to validate that CBN was not the intoxicating factor. Cahn did map the structure of CBN, but many questions were still left unanswered until future scientists finally discovered CBD and THC. Separately, Easterfield and Cahn made the initial discoveries into CBN.
How to make CBN
When it comes to how to make CBN, the important thing to remember is that it's a degradant of delta-9 THC, and that means you can make CBN from regular marijuana. Though it can be made from a hemp plant, since a hemp plant has considerably less THCA, it would require synthetization, rather than being made naturally. The best way to make CBN, therefore, is by using high-THC marijuana plants.
So how do you make CBN? It's actually quite easy. Just add the things that naturally convert THC to CBN, light and/or heat. Both of these options essentially speed up time, allowing for a quicker degradation process that allows for CBN to be made. When made industrially, CBN is often created using solvents and metallic catalysts. However, if you do it yourself, not only do you know you're getting the right product, but you can actually make a cleaner product. This can go for many cannabis products, where DIY methods can often net a better result when done correctly.
Heating: If you want to use the heating method (and you probably do as its more defined), you need to go through the regular process of decarboxylation that turns THCA into delta-9. However, in this case, you need to go a little further, to degrade the delta-9 in order to make CBN. Regular decarboxylation to convert THCA to delta-9 is usually done for no more than 20-40 minutes at a temperature of 230-250°F. These temperatures are low enough that the further conversion to CBN and degradation of other plant compounds, isn't a problem. In this case, though, you would decarb at higher than 302º F, for a total of 15 minutes, although some publications say that 300º F for one hour also works. And that's it. After this, you can go on to use the bud to make oil, butter, or whatever other product you know how to make, or can find instructions for.
UV light: The other option to age the plant in order to make CBN from delta-9, is with UV light. Unfortunately, less has been published about the specifics for this method, apart from the fact that a very intense light would need to be used. How intense, and for how long, is harder to say. Perhaps in the future, as CBN becomes more popular, this topic will get further flushed out.
There is, however, plenty of information about how light effects the cannabis plant, and much can be gleaned from this explanation:
"In cannabis, Δ 9-tetrahydrocannabinol (THC) naturally degrades to cannabinol (CBN) over time. Light exposure supplies energy and speeds up this process. The ratio of THC to CBN in a stored sample of cannabis can actually be used to indicate age and quality of storage.
Lindholst (2010) examined tetrahydrocannabinolic acid (THCa) in cannabis extracts. Samples exposed to daylight degraded at a half-life of 35 days, while those kept in darkness degraded at a half-life of 91 days (an approximate 250% difference)."
While this is not specific, it does indicate that if you leave your weed out in bright sunlight, or put it under a UV light, that the process of converting delta-9 to CBN is much faster. I didn't see an exact consensus on how to do this online, but several message boards contained different instructions by different people, and interested parties should check through to find more specific information if this is a desirable method to try. Personally, I suggest using the heat method.
How this differs from other minor cannabinoids
The cannabinoids market of today offers tons of options of both naturally occurring and synthetic cannabinoids. What's the catch? Even the naturally occurring ones (besides THC and CBD) don't occur in high enough amounts for extraction without synthetization. Meaning if you're buying a product, even if it's something like delta-8, which most definitely is naturally occurring (as likely another minor degradant of delta-9), your product will have gone through processing. This likely means the involvement of harsh chemicals or processes that may not be safe, and which aren't currently being regulated.
Beyond that, the lack of regulation means its hard to know you're getting the product you're paying for, and that it's not a fake, or filled with adulterants. For this reason, this has become a questionable market in terms of safety and product quality. And this goes for any cannabinoid product that fits the category of requiring synthetization. It also goes for many other cannabis products, but minor cannabinoids in particular we already know cannot be easily and directly extracted for use.
The difference with CBN is that it can be made to appear in large enough amounts, by simple methods that don't involve synthetic processing. However, for the other reasons mentioned, this doesn't mean that because you're buying a CBN product, that it will be real. And that brings us to the other difference with CBN and other minor cannabinoids. Much like delta-9 itself, it can be made DIY style, giving users the ability to make a clean product, and to know for sure what that product is.
Conclusion
CBN likely has plenty of medical benefits, and one seems to be the ability to help with sleep and anxiety, though this is not formally stated. Research has been inconclusive, and is ongoing, but message boards are already filled with people talking up these qualities. Perhaps in the future we'll know more. Let's remember one thing. The government never likes when people can make their own products, or buy them outside of regulation, since it means less money in taxes for the government.
The push to say CBN isn't effective for sleep could be more related to trying to save it for the pharmaceutical market, or simply to keep people from buying it, than trying to help people find a safe method to promote sleep. This is supposition, but something to consider in the whole ongoing cannabis debate, and with the rapid growth of the government backed pharma market.
Hello and Welcome! Thanks for making it to CBDtesters.co, the internet's preeminent location for the most important and though-provoking cannabis and psychedelics-related news globally. Visit us whenever you can to stay on top of the always-in-flux universe of legal drugs and industrial hemp, and remember to check out The THC Weekly Newsletter, to ensure you always know what's going on.
Disclaimer: Hi, I'm a researcher and writer. I'm not a doctor, lawyer, or businessperson. All information in my articles is sourced and referenced, and all opinions stated are mine. I am not giving anyone advice, and though I am more than happy to discuss topics, should someone have a further question or concern, they should seek guidance from a relevant professional.
Related
Magic Mushrooms and Truffles in Amsterdam
Some people see the Netherlands, and more specifically Amsterdam, as a drug-utopia. A place where everything is legal, allowed and thriving. A place where you can smoke cannabis on the street, walk along the red-light district, and munch on some magic truffles. But what are magic truffles? And are they as potent as magic mushrooms? In addition, why is one legal but the other is not? Although Amsterdam may seem like an unapologetically open city, it's far more nuanced than that. Using Amsterdam as a reference point, let's take a closer look at what the true difference is between magic truffles and magic mushrooms.
Remember to subscribe to The Psychedelics Weekly Newsletter for more articles like this one and all the latest, most exciting industry news. And save big on Delta 8, Delta 9 THC, Delta-10, THCO, THCV, THCP & HHC products by checking out our "Best-of" lists!
---
Netherlands Drug Laws
Cannabis
It's a common misconception that drugs are legal in the Netherlands. In fact, even cannabis, which is sold publicly on the streets of Amsterdam, is still an illegal drug. This means that Luxembourg was actually the first country in Europe to officially legalize cannabis for growing and consumption. But how can this be the case? Well, CNN Travel elaborates:
"You may be surprised to learn that recreational drugs are illegal in the Netherlands. Yes, even pot. But an official policy of tolerance emerged and in 1976 the Dutch parliament decriminalized possession of less than 5 grams of cannabis."
What occurred after this decision was a new culture of coffee shops where you could buy up to 5 grams of cannabis flower, under the guise that it was not illegal, only decriminalised. That evolved and now Amsterdam is known for its cannabis culture, with over 160 coffeeshops in the city center. There are a wide range of cannabis products on sale in Amsterdam, these include: edibles, high-THC buds, tinctures, and more. 
Magic Mushrooms
So, what about other kinds of drugs? How about magic mushrooms? Almost all other drugs are dealt with harshly. Much like the rest of the world. Cocaine, heroin and MDMA are all illegal and only sold unlawfully on the dark web or from street dealers. It's only cannabis that has seemed to find its own loophole. Well, interestingly, before 2008, magic mushrooms actually were a legal drug in the Netherlands.
Magic mushrooms are wild growing fungi found all over the world. Mushrooms can be poisonous, so it's important to know what exactly magic mushrooms look like if you decide to go searching for them. The magic kind look like an ordinary mushroom except they have a longer stem and smaller head. Magic mushrooms contain psilocybin, which is a naturally-occurring hallucinogen and psychoactive ingredient. It's the psilocybin that is responsible for the well-known effects of shrooms. These effects include: 
Distorted sense of reality 
Euphoria
Sensory enhancement
Hallucinations
Introspection
Magic mushrooms are usually placed in the top tier of drug categories around the world because they are a hallucigen. In the USA, they are considered a Schedule 1 and in the UK they are considered a Class A, meaning they're believed to carry a high risk of abuse and addiction. Any drug that twists and re-shapes reality are often considered to be the most dangerous drug by most nations, although this is not necessarily accurate. And this is despite the fact that psilocybin has been found to have numerous different medical benefits. In 2016, a John Hopkins study found that psilocybin could help treat people with anxiety and depression.
In the Netherlands, it wasn't until recently that mushrooms were made illegal.This was a headline for an NBC News article, written in 2007:"The Netherlands will ban the sale of hallucinogenic mushrooms, the government announced Friday, tightening the country's famed liberal drug policies after the suicide of an intoxicated teenage girl."
After a girl under the influence of mushrooms jumped out of a window in 2007, protests against hallucinogens took place and resulted in the drug being made illegal. Consequently, the majority of magic mushroom types were banned. All, except one: the truffle. 
What are Truffles? 
So, in order for us to understand why truffles were left legal, we first need to understand what they actually are. And, of course, how they differ from magic mushrooms. Truffles are mostly spoken about in relation to the Netherlands because most other countries do not allow them. In addition, when people visit Amsterdam, many are surprised by the ease of purchasing truffles. They can be bought in coffeeshops and smart shops and usually come in colourful packaging with names like: 'mexicana', 'atlantis' and 'high hawaiians'. All claim to be stronger than the next. But really what are truffles? 
Magic truffles are nothing like the kinds of truffles you cook with, except they do have one similarity: they grow underground. Magic truffles are sclerotia, which is essentially a hardened mass of fungal mycelium that grows beneath the surface. Magic truffles are from the psilocybe mushroom mycelium and contain psilocybin. Psilocybin is a hallucinogenic compound and gives both truffles and mushrooms their psychedelic effects. 
Taste & Look
Magic truffles are essentially magic mushrooms that never made it to the surface, and this is exactly what they look like. They look like mushrooms that have never seen the sun and haven't been able to grow. This means they taste a little like soil and dirt. In addition, they're very dry so eating them without liquid can be quite difficult.  
Magic Mushrooms vs Magic Truffles
So, what are the differences between these two fungi, and why is one legal and the other is not in the Netherlands? 
Science
First up, let's take a look at the scientific differences between the two substances. So far we know they both contain psilocybin, which is a psychedelic compound. But also, this is what the National Library of Medicine has to say:
"Magic mushrooms is the most common name given to hallucinogenic fungi containing the psychoactive alkaloids psilocybin and psilocin. In recent years, fungis' sclerotia, commonly called "magic truffles" have become a form of supply of psychoactive Psilocybe alkaloids since Psilocybe sclerotia are not specifically included in the laws banning the sale, the purchase and the use of such substances and mushrooms containing them"
What this means is that magic mushrooms and magic mushrooms are essentially the exact same thing. However, magic truffles are simply at an earlier stage of development. They are at a more embryonic stage, hence why they are 'picked' whilst they're still underground. Known also as sclerotia, hallucinogenic truffles are a younger fungus, which stores food reserves in a hard mycelium. These then grow into magic mushrooms after time. 
Look
Magic mushrooms and magic truffles do not look the same. In fact, truffles look like what they are: stunted mushrooms that never made it to the surface and never saw the sun. They also resemble a darker-looking bit of ginger. Whatever you want to liken them too, they definitely don't look appealing. Magic mushrooms – on the other hand – look the same as usual mushrooms, except with longer stems and smaller heads. 
Potency
Some believe that truffles must be less potent than mushrooms because they are legal and less formed. This is not necessarily correct. Both contain psilocybin and the same chemical compounds, therefore they should technically have the same potency. However, due to the fact that magic truffles are standardised and commercialised, they have been able to create and package various strengths and potencies. Therefore, you can purchase weak, mild and strong magic truffles in Amsterdam. It's harder to do the same with magic mushrooms as they are illegal and are usually sold by people who do not have various types. Both magic truffles and magic mushrooms are digested, they usually kick-in after around an hour and their effects can last from 4-8 hours. Overall, magic truffles and magic mushrooms have the same level of potency, but truffles can be bought to have less if customers require it. 
Legality 
If all this is the case, then why have the Netherlands decided to illegalise magic mushrooms but not magic truffles? Well, it's first important to understand that countries like the UK and the USA have banned the substance of psilocybin which, as a result, has made anything containing this substance also illegal. This includes both magic mushrooms and magic truffles. However, in the Netherlands, they decided to illegalise magic mushrooms as a substance, rather than what they contain. This left room for magic truffles to slip through the cracks. 
Conclusion
Magic mushrooms and magic truffles are both essentially the same drug, except they are both at different stages of growth. The Netherlands, in particular, have decided to treat each drug individually rather than the substances that the drug contains. Whatever you believe to be right or wrong, the situation is that magic truffles are potent and extremely easy to purchase in Amsterdam. So, if you're looking for an exciting and legal experience, make sure to head over there and try them out.
Hello all! Welcome to CBDtesters.co, your ultimate online destination for the most relevant and thought-provoking cannabis and psychedelics-related news globally. Read through the site regularly to stay on top of the constantly-moving world of legal drugs and industrial hemp, and sign up for The Psychedelics Weekly Newsletter, so you never miss a thing.
Disclaimer: Hi, I'm a researcher and writer. All information in my articles is sourced and referenced, and all opinions stated are mine. I am not giving anyone advise, and though I am more than happy to discuss topics, should someone have a further question or concern, they should seek guidance from a relevant professional.
Related
THC Testers Needed – Get Paid To Try Cannabis Products! CBD Testers
THC Testers Needed: If you're looking for the ultimate cannabis job, we have the perfect one for you. That's right, not only will you get free cannabis products, but you will also get paid for it!
We are currently recruiting more THC Product Testers to try Delta 8, Delta 9, Delta 10, HHC, THC-P, THC-O, HHC-O & THCV products. As one of our testers, your job will be to try new cannabis products, which will be sent to your home, and post a detailed review.
This is a paid position perfect for experienced cannabis users.
THC Testers Needed: CBD Testers is currently looking for skilled and experienced cannabis users to try new cannabinod-based products. Once approved, our THC testers will get weekly samples of all the latest and trendiest cannabis and hemp products, such as vape carts, gummies, dabs, flowers, disposables, tinctures, topicals and more. In exchange, you will have to submit detailed reviews that will be post in CBD Testers website.
Beside skilled writer, we are also looking for people to do video reviews, that will be shared in our instagram channel.
If you want to get paid trying cannabis products, this is the ultimate opportunity for you!
How to become a THC Tester:
STEP #1: Subscribe below to the THC WEEKLY newsletter, as only registered users can be a tester. After subscribing, a detailed email will be sent with further instructions.
SUBSCRIBE BELOW:
---
Examples of products our THC testers are getting
As THC Testers, your job will be to submit a 1200-1500 word article to be publish in CBD Testers website, or a video that's a few minutes long, to be shared in our instagram channel. Based on your reviews, we will pick the best products to feature in the THC Weekly newsletter, and even secure exclusive deals for our subscribers. Your work is important!
We have included a few samples of real products we are currently testing. These are exactly the kind of products you can expect to get, once approved as a tester. Please keep in mind it that is not a 'free sample' offer, but a real job opportunity. We are interested in people that are capable of doing several product reviews every month (2-4 times a month), and get paid for it… so subscribe today to get started!
Example #1:
(From the THC Weekly newsletter)
THC-P vape carts are one of the latest top-selling products, since they are so strong…
Based on the work of our THC testers, we have secured a 25% discount on both the 4-pack and the 8-pack THC-P vape cart bundles. Using our exclusive coupon code, the subscribers of the THC Weekly newsletter can now get this high-potency product, for lowest price anywhere! Using the information we are getting from testers like yourself, we can now feature the best availabe products with the lowest price anywhere!
---
Example #2:
(From the THC Weekly newsletter)
These Vegan Delta 9 Gummies are another top-selling hemp-derived Delta 9 product. With 10 mg of hemp-derived Delta-9 THC it is a great choice for anyone looking to buy Delta 9 THC products online.
We have secured an exclusive 35% discount for this product, and based on the review coming from our THC testers, this product is now available for the subscribers of the THC Weekly newsletter.
---
Example #3:
(From the THC Weekly newsletter)
Have you tried the new THC-O edibles? The Long-awaited THCO gummies have arrived and they are so strong! This is another great example of products sent to our THC testers. Currently, as this product is so popular, we have managed to secured an additional 25% discount, only availabe for the subscribers of the THC Weekly newsletter. This was never could have done without the great work of our THC testers!
---
Example #4:
(From the THC Weekly newsletter)
When was the last time you experienced Euphoria?
With 16.7mg Delta 9 THC, 67.6mg CBG, 83.5mg CBD, 2.9mg CBC and 1.6mg CBN per gummy the Euphoria Delta 9 THC Extra Strencth Gummy is a great choice for anyone looking to try a multi-cannabinoids psychoactive edible.
This is another great example of products our testers have to try for us and get paid doing it!
---
Example #5:
(From the THC Weekly newsletter)
HHC and HHC-O (just released) are two new cannabinoids, that are very close to Delta-9 THC, but not exactly the same. Your job as a tester is to explain to the world what are the key differences between both cannabinoids and to assist us in finding the best availabe products.
As HHC is gaining popularity fast, you job is very important.
---
Example #6:
THCV might be one of the most interesting products availabe today, as it suppose to have some unique appetite-balancing qualities, that's why some people refer to it as 'Diet Weed'. Is it true or just a marketing slogan? This is exactly what our THC testers have to dind out, join us and help finding what is true and is what is false in our industry!
---
Ok, I am interested, how can I begin?
Want to become a THC Tester? Please subscribe to the THC WEEKLY newsletter, and look for an email from 'THC WEEKLY' with further instructions.
---
Best Hemp Flower Deals, Coupons and Discounts
Related