Quality product is what you will find when ordering with StonerDays we provide the largest selection of Cannabis Clothing in the Marijuana community. All of our art work is designed in Upland California by a qualified team with over 15 years in the industry.  We use DTG technology to bring our customers the finest printing possible in the industry. With 2019 here we wanted to show all our newest designs that will knock your socks off.
First off we have our Trippy Mouse design, with vibrant colors and creative design this will surely turn heads at any upcoming event.
Next we have our Holy Smokes design and holy moly is it great. Church will never be the same.
Love is in the air with our True Love tee. Enjoy your true love Marijuana.
Together We Are One never forget.
Find your Zen with our Sacred Ganesh design.
Our Don't Panic It's Organic Tee is a great addition to any collection.
If you build it they will come with our new Field Of Dreams design.
Look at those Trippy Trees with our trippy tees.
So money does grow on trees with  our new Money Trees design.
We also have a huge selection of Marijuana Socks made here in Upland California. Check out our huge selection here. WEED SOCKS
Feel free to contact us about wholesale or personal designs to promote your business.
Providing the Marijuana Industry with Wholesale options. Please talk to our friendly staff or simply create an account and start shopping. We have what your going to need to stock those shelves for your costumers. With a huge verity of Marijuana Coffee Cups each designed and printed in shop.
We also provide and lead the industry with our unique designs on all our Dab Mats, posters, Hats, silicone mats and jars, wrist bands and stickers with a great verity of unique designs that can not be found anywhere else. We hope to hear from you soon our hours are 9 a.m. to 5 p.m. Monday – Friday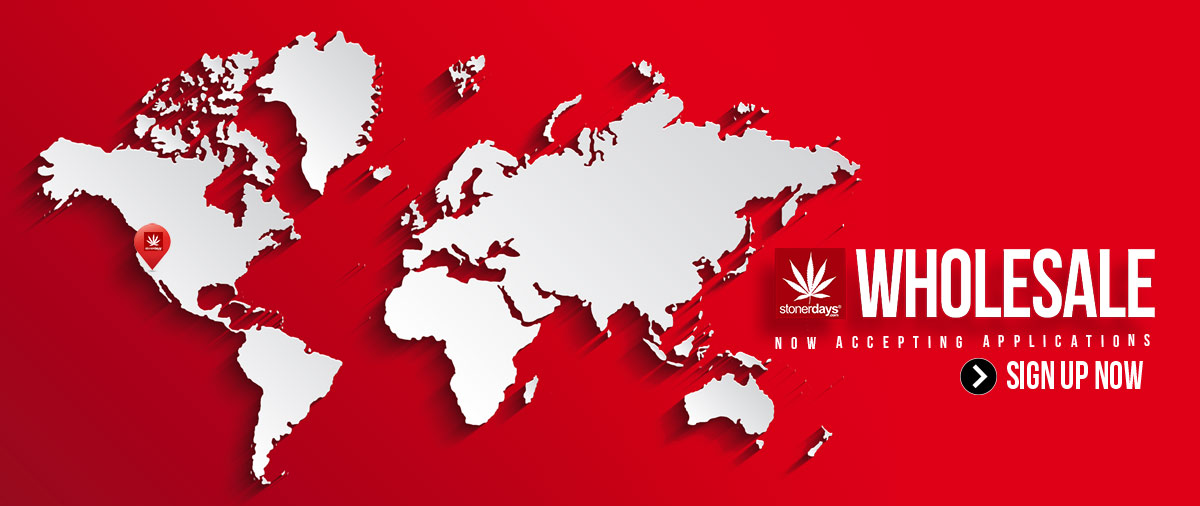 Love shopping with Amazon Prime? So do we!
Check out with Amazon Prime and receive your orders with in 48 hours. We want our customers to be 100% satisfied that's why we partnered up with Amazon Prime taking care of what matters most, you.
Wholesale Cannabis Clothing To Elevate Your Sales • Cannabis Wholesale
So you've been browsing through the eclectic Stonerdays clothing selections for some time now, thoughtfully adding to your cart and now boldly showcasing a Higher State of Mind. You've even spread the pot-head love and given lots of these dank designer threads to your friends and family. Then the light bulb ignites… "I need these clothes in bulk!" A genius idea for business owners as gifts or party favors at functions.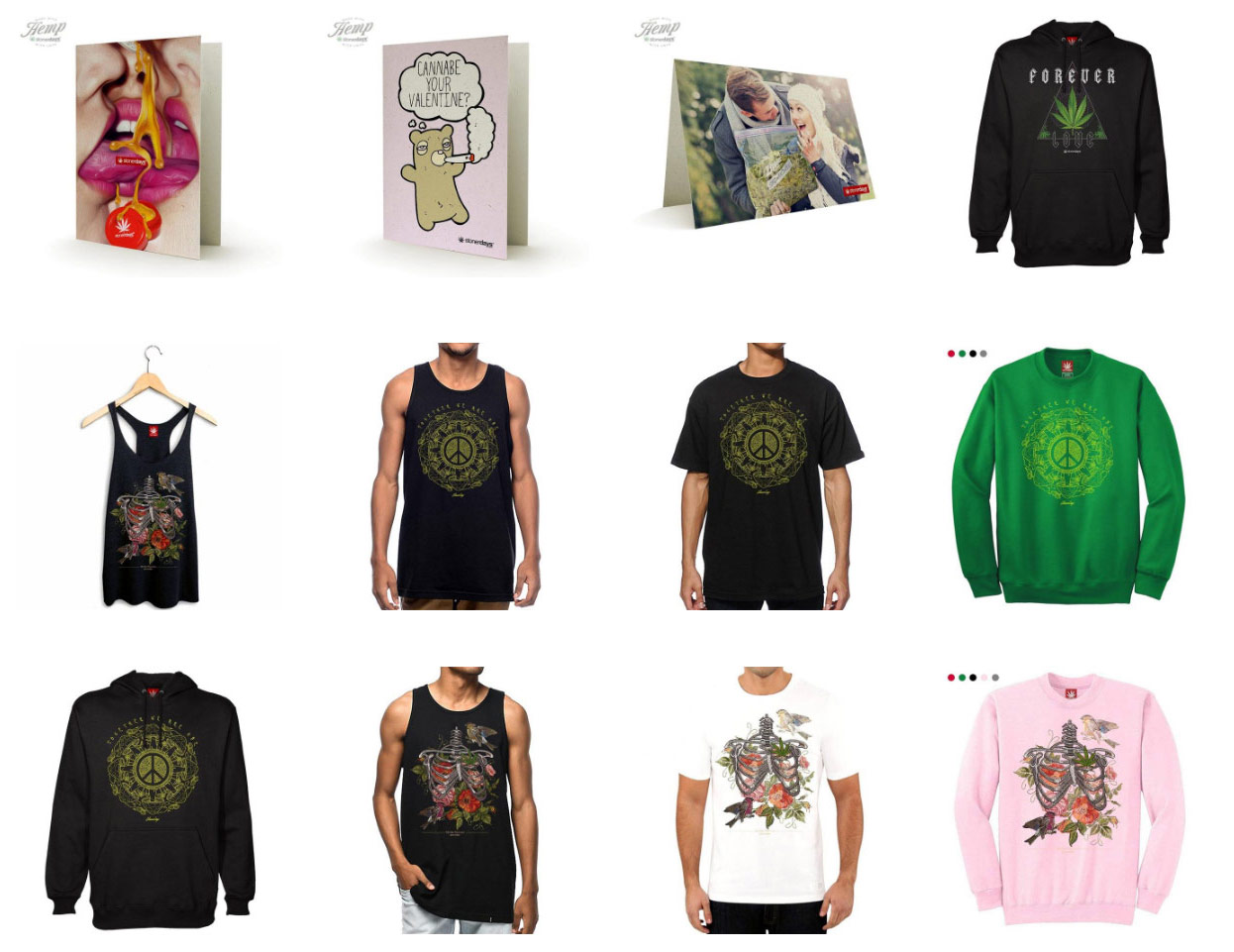 Creating a business wholesale account is easier than you might think, with only a few simple steps getting you ready to purchase this wholesale cannabis clothing, adding to your inventory and growing your business exponentially.
We insure that a greater quality and creative selection of cannabis clothing does not exist anywhere else. We welcome you to check out some of our best designs. From socks ranging in colors and dimensions like the "Alice in Kush-land" styles and many more. Trippy art stickers that bring life and humor to any work-space or function, and T-shirts that spark so much more than conversation.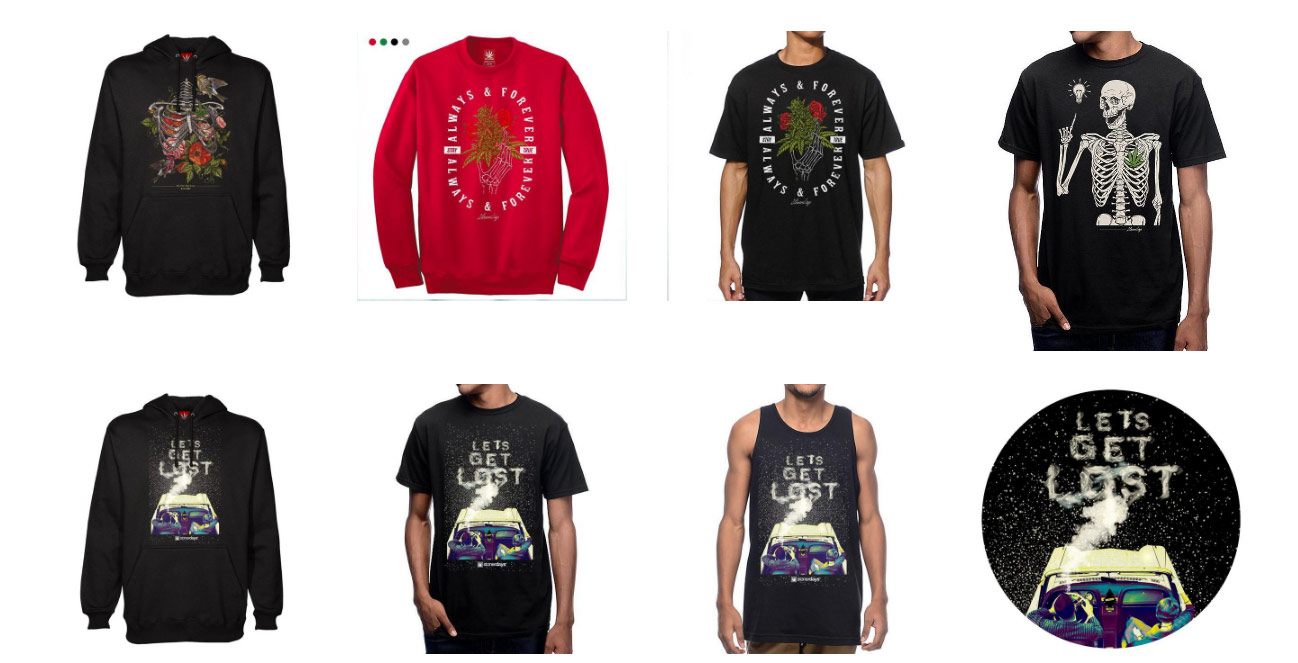 Other than being the most dynamic and awesome CEO, there are other perks as well. Stonerdays wholesalers get 50-70% off all retail prices and free shipping with orders over $75!
The only thing better than deals like these, are getting stoned while taking full advantage of them. Expand your business, inventory, and higher state of mind all at once.
420-Style Barbecue: Celebrate Independence Day with a Buzz
It's the year 2021, and not only can we celebrate our freedom as Americans, but we can celebrate the growing freedom of cannabis. This year, celebrate the 4th of July in marijuana fashion, with these awesome independence-related, pot-centered options, for a perfect 420-style barbecue and celebration!
Are you ready for July 4th, and are you planning a wicked 420-style barbecue? Perhaps one of the best products to have this year is delta-8 THC. Why? Because without the anxiety, paranoia, and couch-locking of standard delta-9 THC, delta-8 leaves users feeling more clear-headed and energetic, and this is perfect for social gatherings and holidays. Go ahead and check out our awesome delta-8 THC deals, and get a great buzz for the holiday, that won't keep you glued to your couch.
Cannabis Independence
We're all pretty familiar with July 4th, and the idea that America stated its independence from Great Britain in 1776. Every year we set off fireworks, have barbeques, and take the day off from school and work, to celebrate the anniversary of getting this freedom. 4th of July is a fun, jolly holiday, meant for enjoying oneself.
It just so happens that America in general, is also gaining cannabis independence. What was once a 100% illegal activity, is now gaining so much support that 18 states have recreational legalizations, and about half the population of the country now live in places where they can smoke marijuana without a problem. But 18 isn't 50, and tons of places in the US are still cannabis-illegal, with stigmas unfortunately running wild.
This Independence Day, let's remember that we still fight for basic freedoms in America. There are plenty of rights being withheld from populations, and a plethora of inequalities that have not been ironed out. If you are a black person in America, or a member of the LGBTQ community, or simply a woman, you are aware that not only are things often unfair, but criminally so. And this is the same for those who have faced penalties, like fines and jail time, in an effort to simply have a medicine, or smoke cannabis recreationally. A lot of people still sit in prison for these crimes, meaning we really aren't free yet.
While other glaring deficits to human rights continue, at the very least, cannabis is on its way to actually gaining full acceptance, or at least, full legal acceptance in the US. So, this 4th of July, let's celebrate our freedom as Americans (however debatable that statement is), and the growing cannabis independence in the USA. Here are some of the best products to celebrate Independence Day with a 420-style Barbecue, and in the best 420 July 4th fashions.
Barbecue time
Perhaps the best way to do a 420-style July 4th barbecue, is with great infused products. After all, what's Independence Day without hamburgers and hotdogs? This July 4th, you can squeeze out infused mustard, ketchup and barbecue sauce, to make your barbecue experience that much buzzier.
One of the best companies for a stoner barbecue is 2Fly. This company offers some not-that-common cannabis infused products that are on the nose for a 420-style barbecue. Regardless of what meat you like between your buns, or what you like to slather on that meat, there's a great cannabis-infused option. 2Fly offers California residents basic barbecue products like ketchup. 2Fly sells cannabis-infused ketchup, with 5mg of THC per packet. Good for everything from scrambled eggs to French fries to your Independence Day burger, these ketchup packets are easy to take to other places, and are great for making your meal that much more fun to eat.
If you prefer your barbecue meat to be slathered with mustard, 2Fly offers Cannabis Infused Mustard, containing 5mg of THC per packet, and also highly portable, and good on all kinds of food other than your burger. Plus, if you like your hotdog or hamburger to be spicy enough to make your eyes tear and your skin sweat, 2Fly has Cannabis Infused Hot Sauce, with a hefty 10mg of THC, so use it carefully.
2Fly Wellness CBD sauces
The good people of 2Fly didn't assume you'd only want THC-infused sauces. The company, as 2FlyWellness, also puts out a line of CBD-infused sauces. These products can be shipped throughout the US, except for Idaho, Nebraska, and South Dakota due to state regulations. The company offers some extremely awesome barbecue paraphernalia in the form of CBD Infused Ketchup and Mustard.
$5.99 – Ketchup and mustard are sold together in a dual packet, with 50mg of hemp-based CBD infused in each dual packet, for 25mg each. Each dual packet costs $5.99. Cartons that contain six dual packets, cost $30 each. Unfortunately, 2FlyWellness's hot sauce doesn't seem to be ready for sale just yet, so you'll have to wait for your next barbecue to try it out.
Local Smoke BBQ
$6 – Having an actual barbecue sauce is imperative for a good barbecue, and Local Smoke BBQ offers a savory CBD-Infused Original Sweet BBQ Sauce. Each bottle of this special sauce contains four ounces of this delicious meat-covering, and is infused with 100mg of CBD. This sauce is MSG and gluten free, and ships all over the USA.
$6 – Local Smoke also offers its CBD-Infused Carolina Pork Sauce, which comes as four ounces, with 100mg of CBD infused into this sweet and tangy recipe. This sauce is MSG and gluten free, and ships all over the USA. This company really gets into its barbecue sauces, and apart from its CBD-infused products, offers a range of non-cannabis related items that are sure to improve any barbecue experience.
Spiked Sauces
Washington DC residents have the benefit of hitting up local dispensary Initiative 71 to buy Spiked Sauces products, a newer brand, which will likely be seen in many more places soon. Spiked Sauces offers three mouth-watering ways to make your burger better, while also giving you a head-buzz. The current flavors are: Sweet Baby Glaze, Ketchup, and Honey. The company is not entirely clear on what's in its products, so interested buyers can contact them through Instagram to find out more for now.
I suggest dropping by a dispensary and checking out the products in person. These sauces are a fantastic addition to any barbecue, whether it's the 4th of July, your birthday, or any other event that calls for firing up the grill.
420 July 4th styles
Not every cannabis-related product includes directly getting high. Sometimes it all comes down to fashion choices, and what you should wear to your 420-style barbecue. And for July 4th, there are some pretty cool options to help show your regular Independence Day, and your cannabis independence day, spirit!
The Weed Scene
$19.99 – The company The Weed Scene provides cannabis/July 4th styles perfect for the Independence day stoner. While offering great pot-centered clothing in general, the company is offering a Funny 4th Of July Weed 420 Premium T-Shirt. Perfect for this year, and the next, this silly tee comes in both men's and women's sizes. The T-shirt is available in the US, as well as in the UK, Germany, France, Italy and Spain, for any expat who wants to celebrate abroad, or for those American-loving foreigners out there.
Stoner Days
The company Stoner Days is also offering some great July 4th clothing, along with some great July 4th deals. Interested 4th of July stoners can check out the following pieces of stoner Independence-related clothing.
$32.99 – Men's Legalize America Tank
$15.99 – Troop Salute Cannabis Socks
$15.99 – Stars & Stripes Weed Socks
$29.99 – Men's Legalize Freedom Tee
$54.99 – Men's Grenade Hoodie
$29.99 – Men's Grenade Tee
$25.00 – Marijuana Hat Army Pattern
$29.99 – HSOM Army Tee
$7.99 – Major League Stoner 24"X36" Poster, for all the baseball stoners out there
$39.99 – Stars and Stripes Crop Top Combo, complete with stickers, socks, and cropped sweatshirt.
Red Bubble
Red Bubble might be the coolest company mentioned, producing items designed directly by artists. Buying from Red Bubble means not only getting super cool items, but it means supporting up-and-coming artists as well.
$20.10 – Designed by artist Rogelio Agustin Jr., this Inhale Freedom Essential T-Shirt is a great way to show your July 4th and cannabis-loving passion. Sizes go from S to 3XL, and can be bought as a Classic T-Shirt – price given above, Graphic T-Shirt ($30.24), Long Sleeve T-Shirt ($31.45), and Active T-Shirt ($25.00).
Conclusion
There are a lot of great ways to enjoy cannabis and Independence day together. Get your 420-style barbecue going with the right infused condiments, and make sure to be fashionable in some great July 4th cannabis independence clothing. As we get nearer to a full legalization, it becomes that much more possible to say that next year (or the year after) we might be celebrating July 4th, with complete cannabis legalization.
There are a number of other fantastic infused products that can elevate your 420-style barbecue, from infused ice cream to infused lemonade to infused beer. And if it's too late to really plan a great 420-style barbecue for this year, remember, we do this every year!
Hello and welcome! You've arrived at CBDtesters.co, your #1 location for the most relevant and up-to-date cannabis-related news from around the globe. Give the site a read-thru every day to stay in-the-loop on the ever-changing universe of legal cannabis, and sign up to get our newsletter, so you never miss a thing.
Disclaimer: Hi, I'm a researcher and writer. I'm not a doctor, lawyer, or businessperson. All information in my articles is sourced and referenced, and all opinions stated are mine. I am not giving anyone advise, and though I am more than happy to discuss topics, should someone have a further question or concern, they should seek guidance from a relevant professional.
Related