The New Year has come and now is the perfect time to gear up for the coming spring. Whether you are starting your own clothing brand, or promoting sports teams, creating trade show giveaways for a product release or simple stocking those shelves with quality printed t-shirts from StonerDays. Picking which wholesale t-shirt, hoodies and sock designs to buy can be tricky. So we have decided to make things a little easier on you. Here are our top sellers for 2018 that will quickly fly off your shelves.
Here at StonerDays we designs and sells premium quality t-shirts, hoodies and sock world wide. With the newest technology available we offer a finely unique range of designs and colors for men and women. Our diverse range of high quality apparel also includes hoodies, tank tops, and sock with a unique design that cannot be found any where else.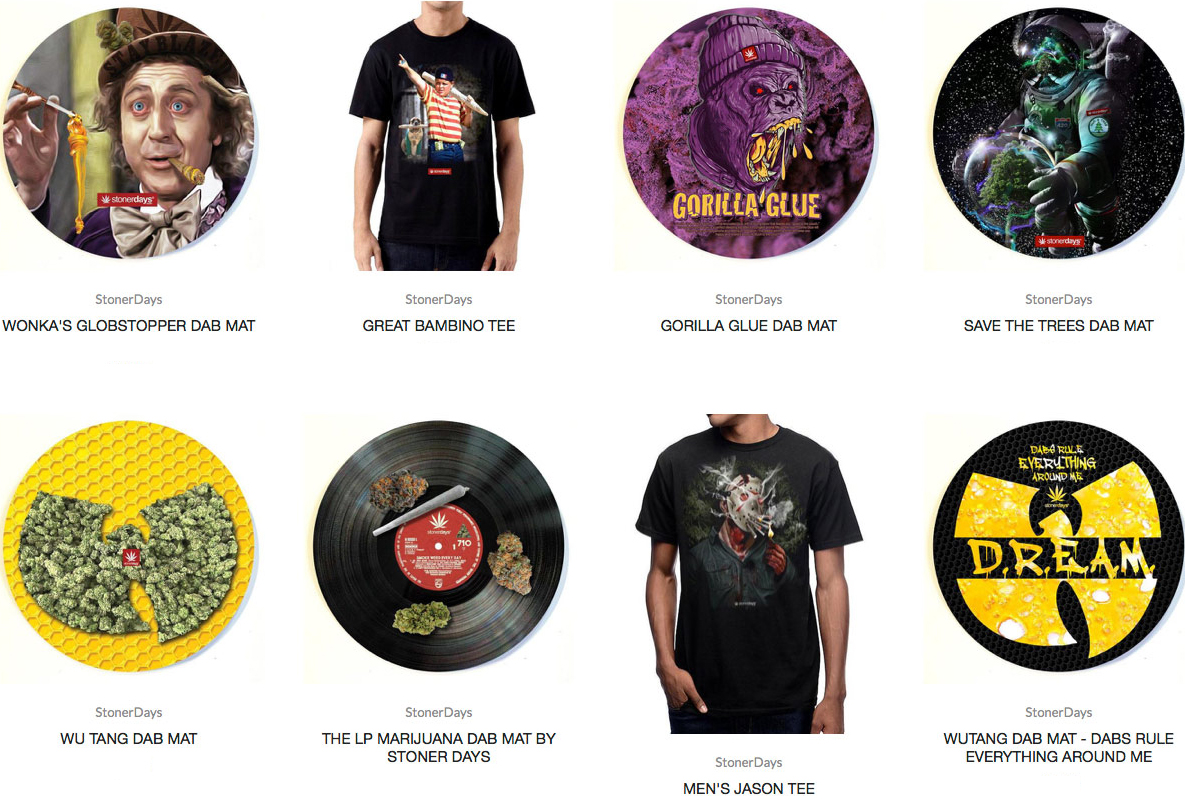 We takes pride in every piece of clothing we print on. Each item is handled with care providing our customers with the finest product possible and we stand by it with our customer care operations team.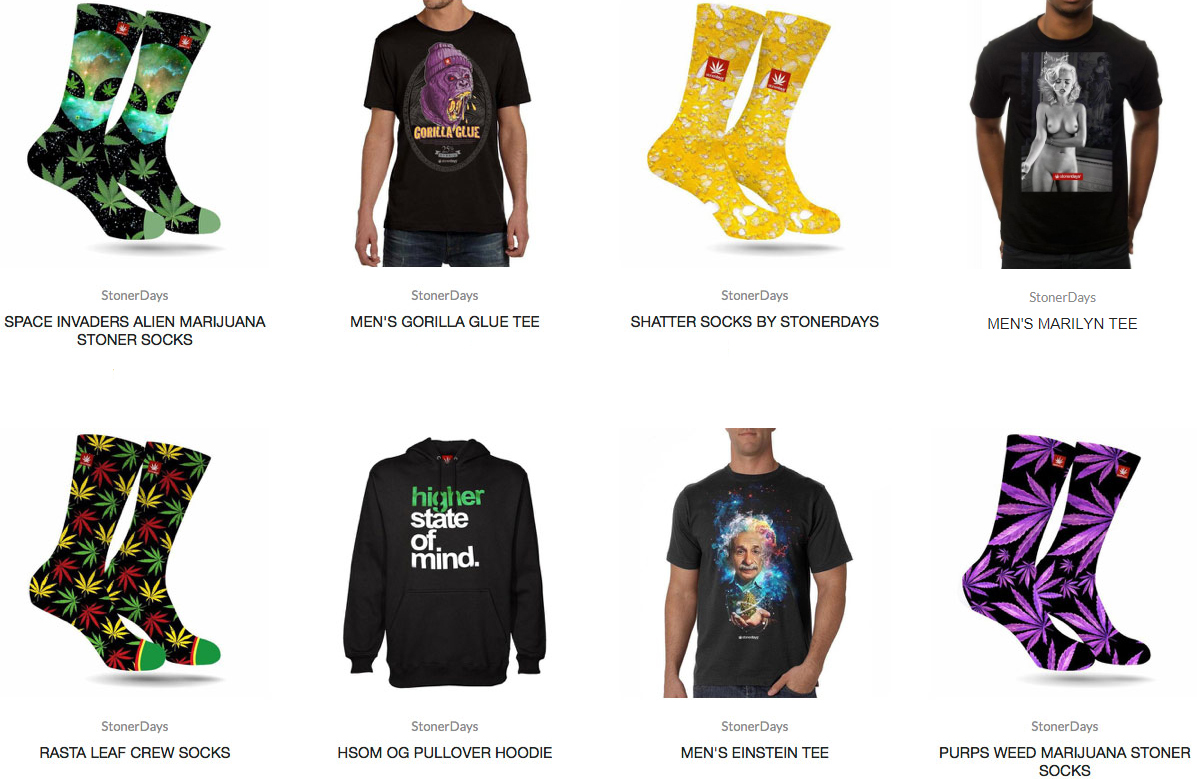 Let us provide a custom shirt tag on each t-shirt, hoodie and tank which is a favorite among the many marquee brands of Californian surf and skate culture who we are proud to work with and support.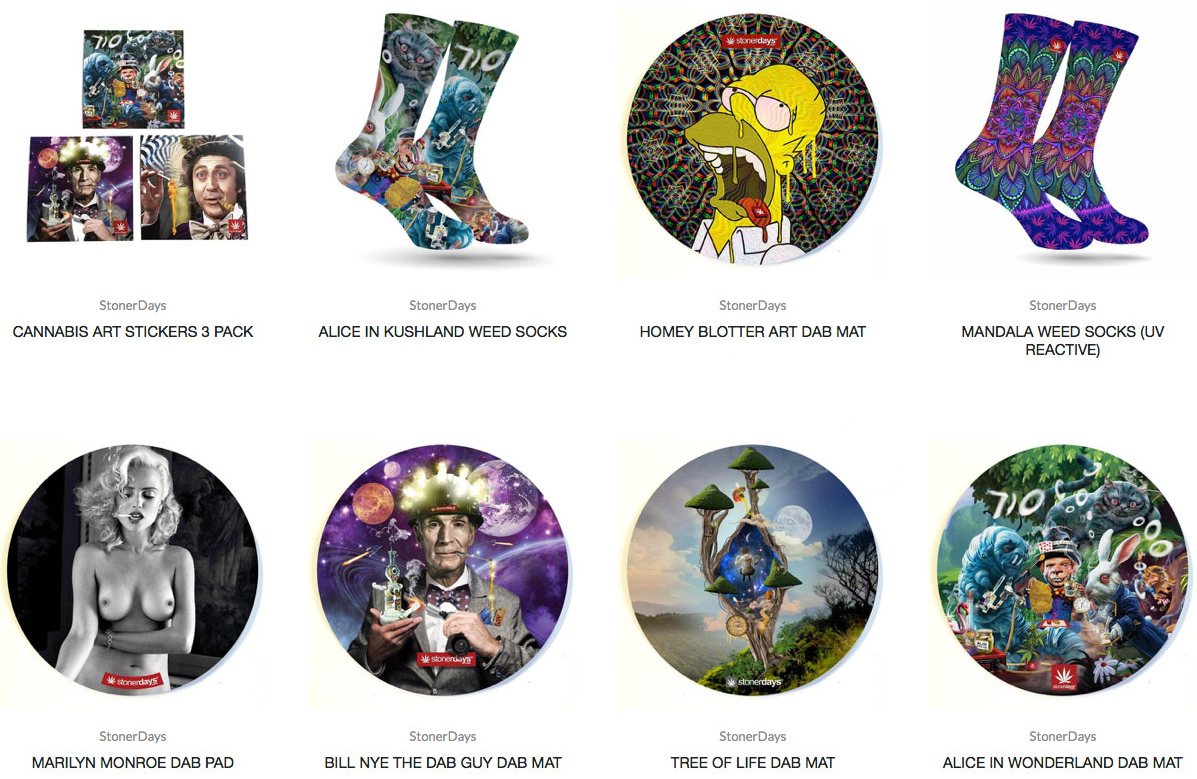 We are commitment to our wholesale customers and make it an ongoing concern to ensure that our customers are satisfied. We also assist with articles and links to assist you to grow your brand and your business through your relationship with you. Ask us for more information.
Feel free to contact us at anytime or simply sign up at our Wholesale page.
Cannabis Clothing Creative Designs Brought to you by StonerDays
Quality product is what you will find when ordering with StonerDays we provide the largest selection of Cannabis Clothing in the Marijuana community. All of our art work is designed in Upland California by a qualified team with over 15 years in the industry.  We use DTG technology to bring our customers the finest printing possible in the industry. With 2019 here we wanted to show all our newest designs that will knock your socks off.
First off we have our Trippy Mouse design, with vibrant colors and creative design this will surely turn heads at any upcoming event.
Next we have our Holy Smokes design and holy moly is it great. Church will never be the same.
Love is in the air with our True Love tee. Enjoy your true love Marijuana.
Together We Are One never forget.
Find your Zen with our Sacred Ganesh design.
Our Don't Panic It's Organic Tee is a great addition to any collection.
If you build it they will come with our new Field Of Dreams design.
Look at those Trippy Trees with our trippy tees.
So money does grow on trees with  our new Money Trees design.
We also have a huge selection of Marijuana Socks made here in Upland California. Check out our huge selection here. WEED SOCKS
Feel free to contact us about wholesale or personal designs to promote your business.
Providing the Marijuana Industry with Wholesale options. Please talk to our friendly staff or simply create an account and start shopping. We have what your going to need to stock those shelves for your costumers. With a huge verity of Marijuana Coffee Cups each designed and printed in shop.
We also provide and lead the industry with our unique designs on all our Dab Mats, posters, Hats, silicone mats and jars, wrist bands and stickers with a great verity of unique designs that can not be found anywhere else. We hope to hear from you soon our hours are 9 a.m. to 5 p.m. Monday – Friday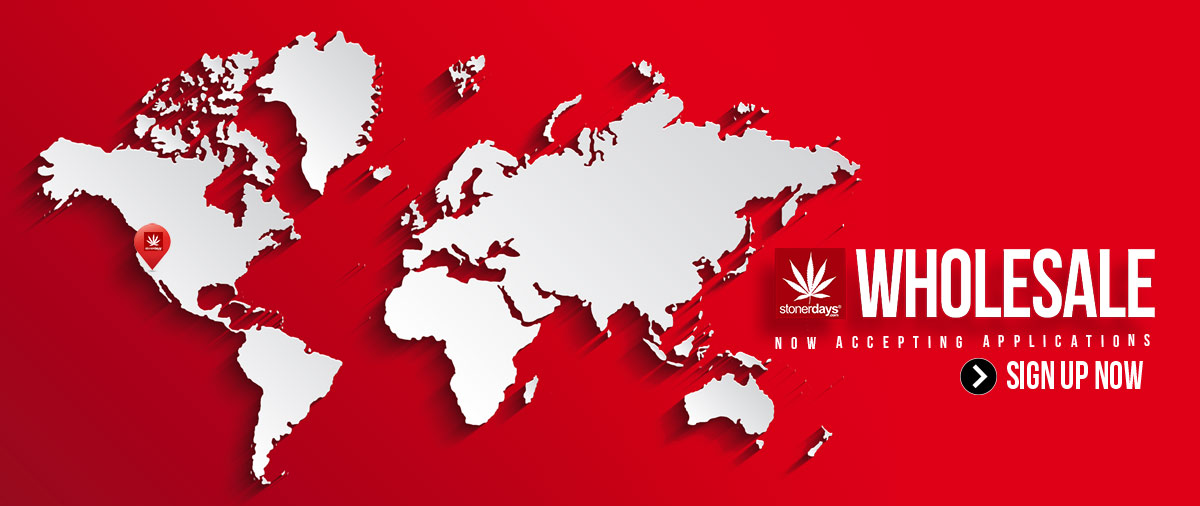 Love shopping with Amazon Prime? So do we!
Check out with Amazon Prime and receive your orders with in 48 hours. We want our customers to be 100% satisfied that's why we partnered up with Amazon Prime taking care of what matters most, you.
Wholesale Cannabis Clothing To Elevate Your Sales • Cannabis Wholesale
So you've been browsing through the eclectic Stonerdays clothing selections for some time now, thoughtfully adding to your cart and now boldly showcasing a Higher State of Mind. You've even spread the pot-head love and given lots of these dank designer threads to your friends and family. Then the light bulb ignites… "I need these clothes in bulk!" A genius idea for business owners as gifts or party favors at functions.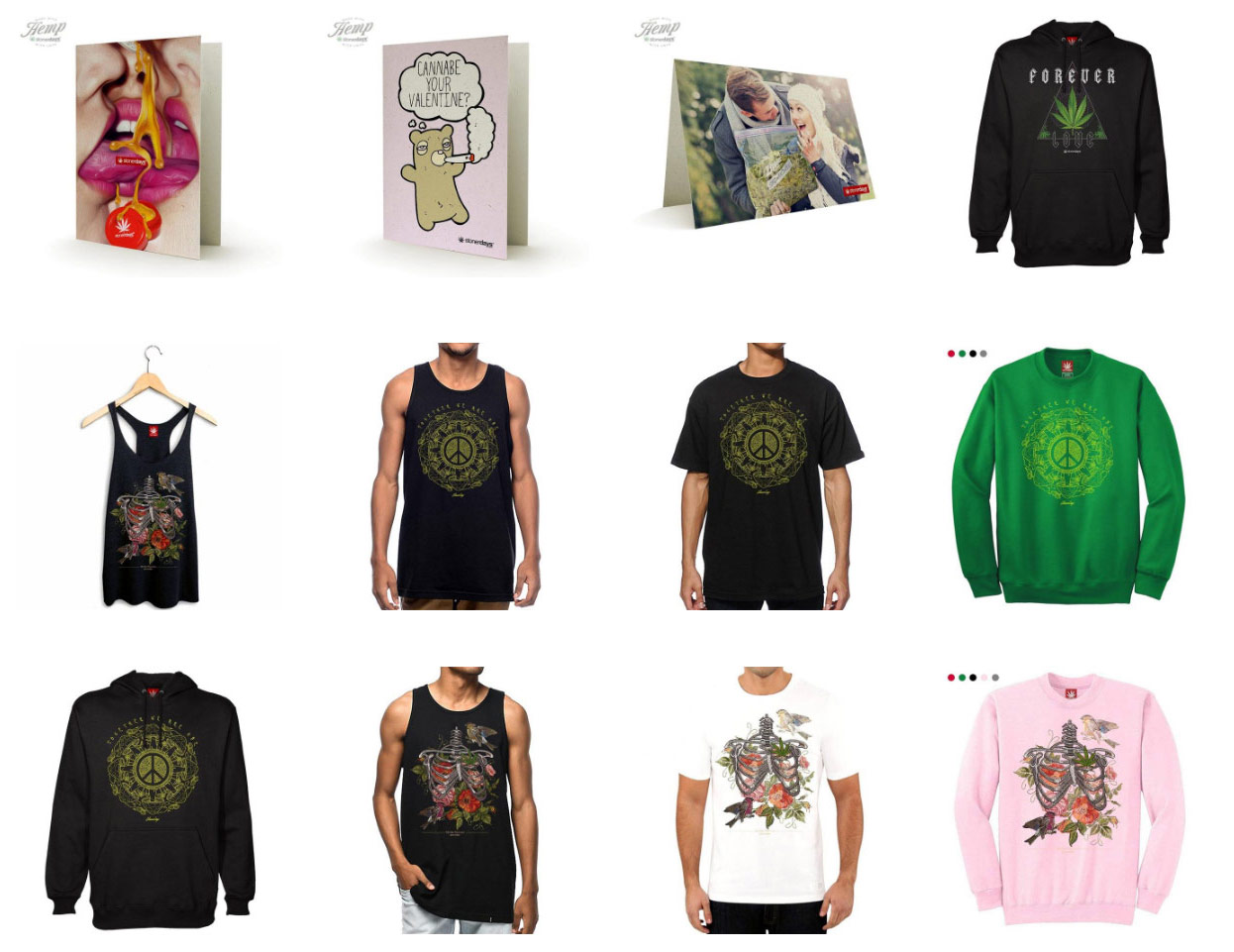 Creating a business wholesale account is easier than you might think, with only a few simple steps getting you ready to purchase this wholesale cannabis clothing, adding to your inventory and growing your business exponentially.
We insure that a greater quality and creative selection of cannabis clothing does not exist anywhere else. We welcome you to check out some of our best designs. From socks ranging in colors and dimensions like the "Alice in Kush-land" styles and many more. Trippy art stickers that bring life and humor to any work-space or function, and T-shirts that spark so much more than conversation.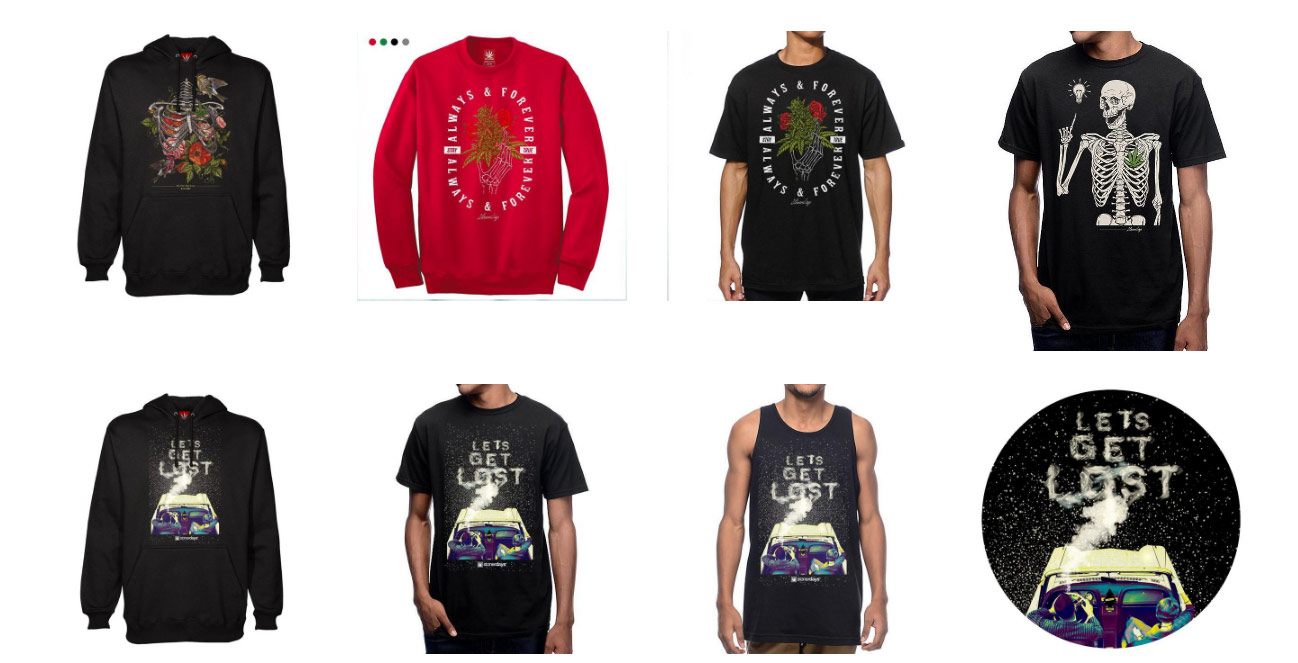 Other than being the most dynamic and awesome CEO, there are other perks as well. Stonerdays wholesalers get 50-70% off all retail prices and free shipping with orders over $75!
The only thing better than deals like these, are getting stoned while taking full advantage of them. Expand your business, inventory, and higher state of mind all at once.
Face Mask Neck Gaiters For Cannabis Lovers by StonerDays •
The pot-head people have spoken and smokey Neck Gaiters have been worn. What you have before you are YOUR top ten Neck Gaiters for Cannabis Lovers, and you never disappoint.
Amongst the fan favorites are designs like the "3D Neck Trees", "Lite-Force", and "The Tree of Life." This lets us know that you're just as high as you should be and still soaring higher. This faded 2020 fashion collection wouldn't be complete without rainbow regurgitating felines and "Rainbow Cat." These gaiters deliver all the right feels for a night on the town or a dab day in.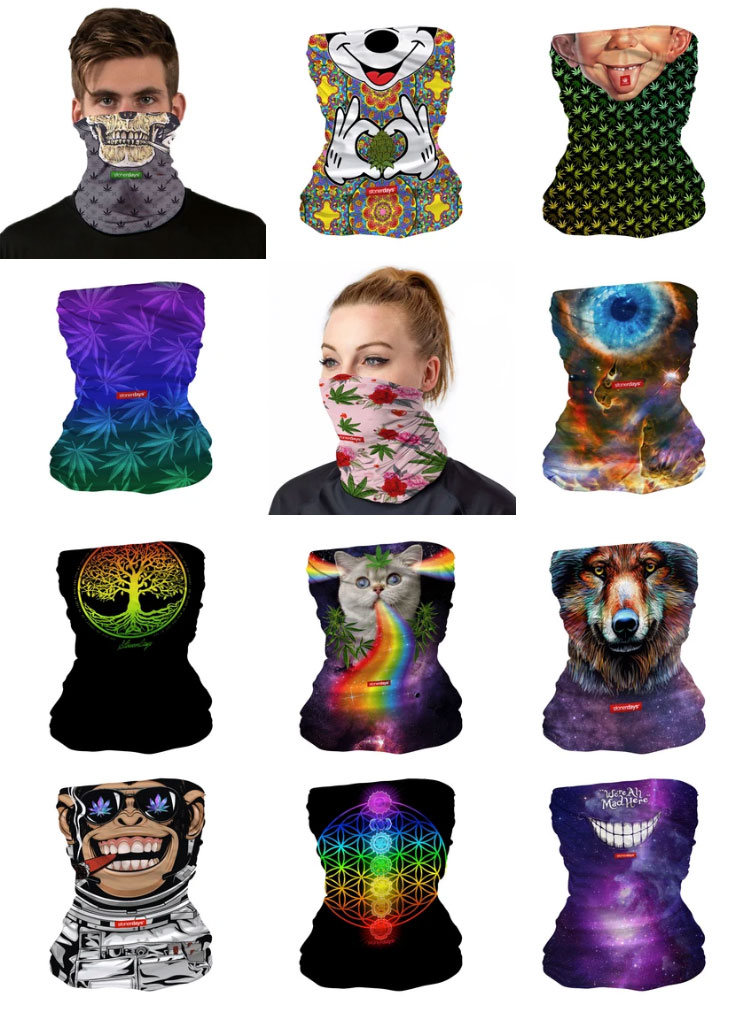 Feel free to showcase the "Higher State of Mind" in the way that speaks to you the loudest because Stonerdays Cannabis Apparel has supplied you with options. A classic print of crisp pine trees puts you instantly in the higher state of mind. Dank nugs lit up like a Christmas tree in July; Lively up yourself with the strong presence of the "Rasta Lion" both bold and sending the message we toke for.
Face Mask Neck Gaiters For Cannabis Lovers by StonerDays
Our chronic cartoon art lovers have decided to hang their worn mugs in the closet and keep the faces of colorful characters like the "Space Monkey" instead. With blunt in mouth and helmet secured its definitely not a bad idea to carpool with this guy to the moon and back again.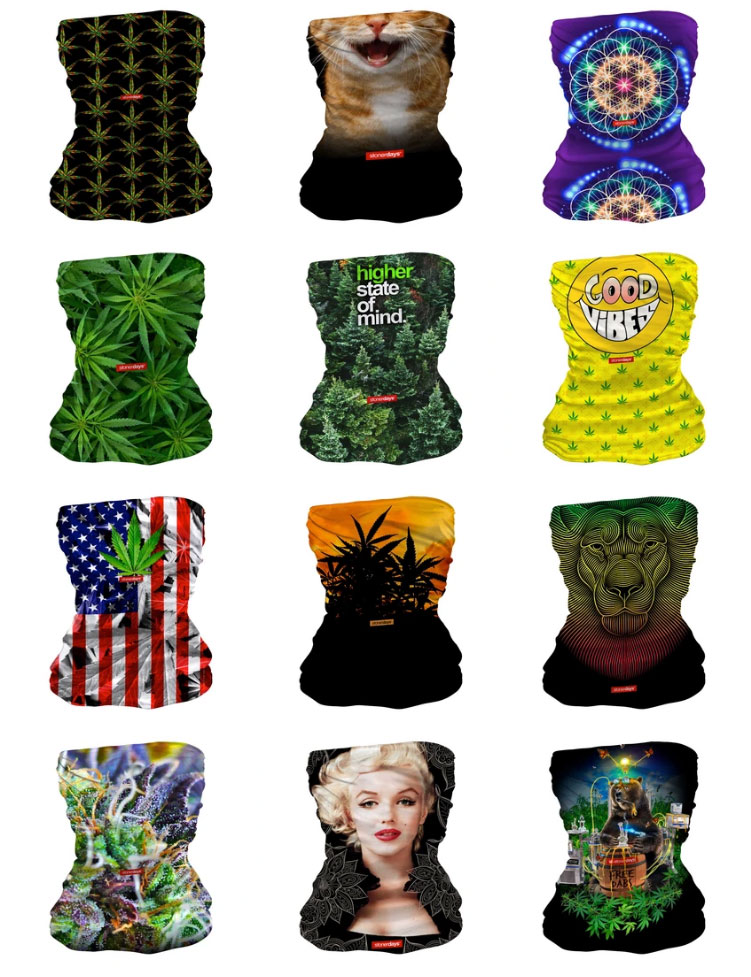 Adorned in the "Spirit Animal" neck gaiter you're officially ready to take flight. Bring that eighth with you on an outer body experience some can only dream about.
Take a double hit and follow that up with a double take. What the future has in store for stoner fashion is here. To see the full line of stoney gaiters click the button below. Don't forget to use code 420 for 20% off everything. Happy stoney shopping!